SYNCHRO SPACE wishes you a Happy New Year and Merry Christmas! We wish you and your families new opportunities and many pleasant surprises in 2021!


Traditionally, on the eve of the New Year holidays, we summarize the synchro-year and set goals for the next period.
2020 helped to find new ways to address the various challenges of cities in new circumstances. Apparently, each of us has something to remember and share the insights of this rather difficult, but interesting period.
We are grateful that you and us strive to develop smart and sustainable cities and participate in
SYNCHRO SPACE
events!
We are proud of the results of our work! Let's remember together the main events of our 2020 synchro-year:
We received support from the UNDP Acceleration Lab, which is actively working to find and implement nature-based solutions for Ukrainian cities and promotes sustainable urban development around the world.
created a collaboration with the Embassy of the Netherlands in Ukraine та WorldStartup (the Netherlands).
signed a partnership agreement has with Ukrainian Startup Fund. The goal is to introduce urban innovations, promote the development of the startup ecosystem of Ukraine and the processes of digitalization of cities.
started cooperation not only with large cities and urban locations, but also with small towns and United territorial communities that are interested in the innovative development of their territories.
Together with our partners, we held a number of events that contributed to the creation of new solutions for cities and quality networking:
The goal of the organizers:
is to improve the quality of life in cities through the exchange of experiences and implementation of innovative solutions for startups in Ukraine and the Netherlands.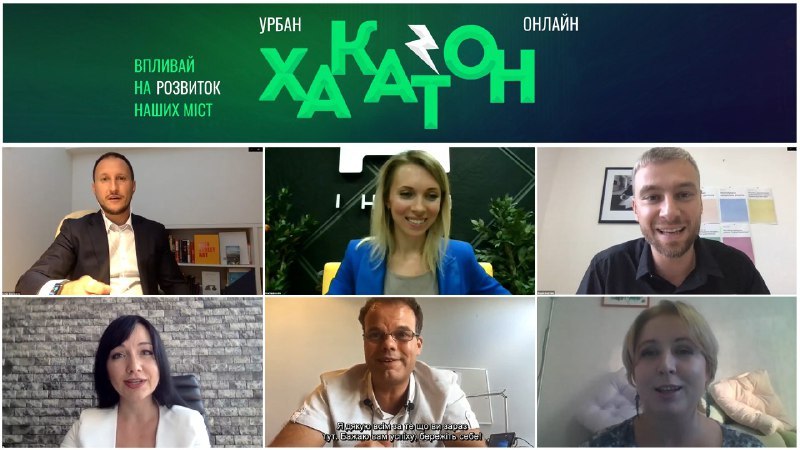 Experts, entrepreneurs-innovators, representatives of cities and international organizations, architects, designers, ecologists, urban planners, IT developers, engineers, other specialists from different parts of Ukraine and the world have united to create smart projects for Zaporizhia, Chuguev, Gostomel and Lozivska UTC.
Together, 16 innovative projects have been created that can influence the development of cities and provide comfort to citizens.

Round table: development of cycling infrastructure

We explored innovative opportunities to build infrastructure and promote safe cycling in cities. Participants focused on the exchange of knowledge and technology between Dutch and Ukrainian startup ecosystems.

Round table: cleaning of open water in cities

We have reviewed innovative methods of cleaning open water in cities and developed a number of next steps that will facilitate experiments with technologies for improvement of open water quality management in cities.
An international online event attended by startups, representatives of cities and international organizations, experts in the fields of urban planning, technology and sustainable development. As part of the FIABCI-UKRAINE SYNCHRO SPACE AWARD 2020, startups presented their projects to FIABCI influencers from 5 continents: UAE, USA, Spain, Colombia, Taiwan, Nigeria, Thailand, South Africa, Mexico and Austria.
By uniting like-minded people and creating conditions for the development and implementation of innovative projects, we are influencing the future of cities today.
Despite the new circumstances in which Ukraine and the whole world found themselves, the synchro-year 2020 was very replete and brought many new opportunities for urban development.
We are pleased to be able to unite modern innovators and share experiences with other countries, strengthening the international startup ecosystem that is able to create new solutions to improve the quality of life in cities.
Follow the news and results of SYNCHRO SPACE on our
Facebook
page and
website
. On our
Youtube
channel you can watch interesting speeches of innovators and feedback from participants.
Thank you for being with us!
With us are those who create the cities of the future!
© 2018 ТОВ СИНХРО ПРОСТІР
Щоб відписатися від розсилки натисніть
тут